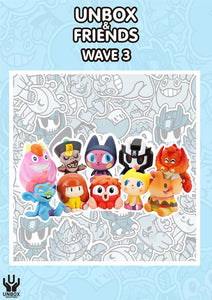 Produced by Unbox Industries Made in Vinyl Purchase a whole case and get 10 basic characters and 2 chase characters.
Wave 3 consists of ten original sculpted designs by artists including Chino Lam, Daniel Yu, NueanfuN, Quiccs, Aliens Park, Wisut Ponnimit, Too Nattanpong, NONWORLDCLUB & Gary Card.

Each figure stands (sits) approximately 5cm in height.
Too Natthanpong, the creator of Greenie & Elfie, was drafted in to restyle the designs of the characters.
Approx 2.5 inches
Soft Vinyl
Paint & Pad Print.
ADORABLE