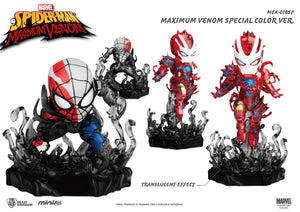 SDCC 2020 MARVEL MEA-018SP MAXIMUM VENOM SPECIAL PX FIG 2PK
BEAST KINGDOM CO., LTD
From Beast Kingdom
. Venom, one of Marvel's most famous anti-heroes from the world of Spider-Man is a symbiont from another planet. Its sole aim is to bond with a host for its survival, but once conjoined it feeds off the character of its host! The lines between light and darkness thus often becomes blurred!
The process of bonding is always painful, but exciting to watch. Seeing our favorite Marvel characters transform into new lifeforms in the comics and movies is always a feast for the eyes!
Beast Kingdom, The Entertainment Experience brand, takes you on a journey to the dark-side of Marvel's Villains, with the release of a special edition a set of two figures in 3-inch
MEA (Mini Egg Attack)
from the
Maximum Venom
figure collection.
Taking arguably two of the most famous characters from Marvel; Spider-Man and Iron-Man and 'poisoning' them with the symbiotic goo of Venom, the special edition sets sees our two characters in the midst of transformation.
Including a unique special edition base for both, the black Venom is taking over the bodies of both characters. Spider-Man's classic red and blue costume is already half taken over into a black and white classic Venom look. Meanwhile Iron-Man's fusion is taking the suite to the brink of explosion. A translucent red and metallic sheen showcases the menacing looking character.
For all fans of Venom as well as "heroes turned evil," make sure to add these two MEA figures to your collection today!