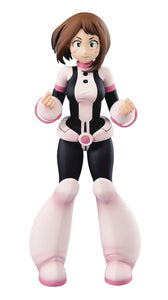 MY HERO ACADEMIA AGE OF HEROES URAVITY FIG 
BANPRESTO
From Little Buddy.
Guess who's joining the
My Hero Academia: Age of Heroes
figure line? It's none other than everyone's favorite light-hearted Uravity! Ochaco-chan gives it her all in her studies to become a hero, and her serious determination shines through with this figure. Fists clenched tight, and eyes wide open, she's ready to go Plus Ultra!