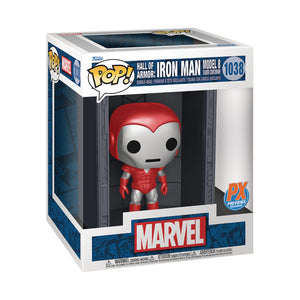 From Funko. A PREVIEWS Exclusive! Originally donned by Tony Stark in his battle with business rival turned Iron Monger Obadiah Stane, Iron Man Armor Model 8, also known as the Silver Centurion Armor, features a silver and red color scheme instead of Tony's usual red and gold. Now you can add this iconic suit to your own Iron Man Hall of Armor with Funko! These comic book-inspired designs are built out to include stackable alcoves for each armor, allowing collectors to build their own hall of armor. Each POP! Deluxe Marvel Hall of Armor Iron Man figure stands about 3 3/4" tall and comes packaged in a collector-friendly window box. Look out for more Iron Man Hall of Armor releases in the future to build your own armory!
PLEASE TAKE A MOMENT AND READ OUR PRE-ORDER POLICY 

PLEASE READ AND UNDERSTAND ALL SALES AND PRE-ORDERS ARE FINAL AFTER 24 HOURS.
- You can cancel your order for FREE within the first 24 hours of purchase.  Any cancellation after the 24 hours period will incur a 20% CANCELLATION/RESTOCKING FEE.
- WE DO NOT SHIP UNTIL ALL ITEMS IN YOUR ORDER ARE IN STOCK. We highly suggest placing separate orders if you'd like to receive your in-stock items before your pre-ordered items.
- You will be charge at the time of order to ensure the reservation of your order.
- Pre-Ordering with us only guarantee your order, it does not mean you will get your item before everyone else.  We cannot control when we get our shipment from our vendors, however, by placing your pre-order with us, you're guaranteed your pre-order even if it is sold out everywhere else.  We value your business and support. Please use our release calendar to see When Funko will be sending us our products: